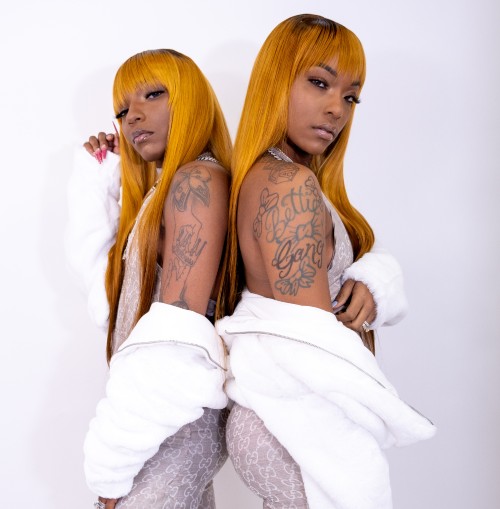 The Bettie Gang Twinz are budding music moguls and rapstresses from the Westside of Chicago, Illinois. The duo is composed of Latonya aka S Geezy and Latisha aka L Bezzy. They are making an impact in their hometown and beyond. Follow them on Instagram @bettiegangtwins
How did your stage name the Bettie Gang Twins come about?
Our mother's name is Bettie. We were originally the "Baddest Twins" but after our mother was killed we decided to keep her name alive by being "the Bettie Gang Twins." Gang is also not like a street gang meaning; it's an acronym. It means "Gather awareness now globally"
What are some of the most memorable moments in ya'll career so far?
Our most memorable moments involve just performing for everyone - we enjoy hitting the stage and meeting our fans.
What have been some challenges?
Challenges include these haters and trying to find people who aren't here to use us but rather help us succeed.
What are you looking forward to in the coming year?
Our fans can expect a new project and us dropping more music videos.
What blessings came out of the pandemic for the Bettie Gang Twins?
One of the main blessings was meeting our managers Andre U.R.L Williams and DJ K Yung.
What are Bettie Gang Twins currently working on?
We are currently promoting our single "Big Homie" and we're laying down plans for the release of our new album called "Boss talk 2 on One."
What else can we be on the lookout for?
We are planning to release the music Video for the single "Big Homie." Stay tuned.
What advice would y'all have for anyone who wants to join the music industry?
S Gezzy: Make sure you have the right team. You need a team that believes in you more than you believe in yourself.
L Bezzy: If you're gonna do it - go all in.